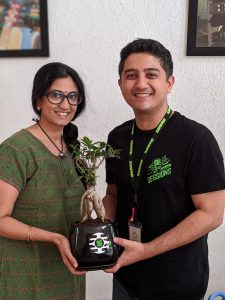 On the 25th of February, Shure came to Audio Academy to conduct a workshop on their microphones and RF systems. The day began with Chicco from Shure SA showing the students a presentation on the history of the brand and their latest developments. This was soon followed by the unboxing of a package full of microphones – some of which were the SM27, the Beta 181 and the KSM8.
Fali Damania, one of the country's most established engineers soon took over and began the workshop by demonstrating the various products and showing various miking techniques for drums and the acoustic guitar. The students experimented for themselves and saw the various effects of using different mics across different placements.
After a quick lunch break, Fali resumed the workshop and moved over to RF and the various wireless systems that Shure manufactures including the PSM 1000 IEM and Axient's digital wireless microphone system. The students were shown basics of RF and some practices to keep in mind while working with RF. They were also shown some of the functions of Wireless Workbench – an RF and equipment management software distributed by Shure themselves.
The day ended with the students being given further resources to learn and goodie bags. It was a great experience and we can't wait for more of their training workshops.