COURSE DETAILS
ELIGIBILITY
Anyone interested in learning to make and produce their own music.
PROGRAM
This crash course will take you through music theory and using Ableton live as a composition and performance tool.
EQUIPMENT
A state of the art production room with Ableton Live 10 suite. Ableton Push 2 control surface.Native Instruments Kontrol s49 midi controller and Komplete 10 bundle.
FEE
The Course Fee is Rs. 45,000/- plus taxes.
TIMINGS
A total of five classes 3 hours each.
Topics Covered
Music theory: Chords, Scales, Rhythm, Basslines, Grooves
Ableton live: For music production
Working in session view
Sampling
Synthesis
Creating Live sets and performance of the same
What you take away from the course
Effective songwriting
Creating unique sounds
Produce like a professional
Perform your music live as a solo act.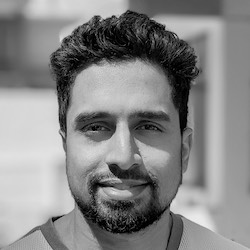 Gautham Pattani
DANTE CERTIFIED TRAINER & STUDIO ENGINEER