COURSE DETAILS
ELIGIBILITY
Anyone interested in learning the art of film sound and post-production.
PROGRAM
This crash course will take you through the essentials of Pro Tools based in-the-box mixing/recording/Foley for film. The course is designed to enhance your understanding of film sound and teach you industry standard techniques for sound design/ recording Foley/ ADR and mixing a film.
EQUIPMENT
A state of the art studio with a sound proofed & acoustically treated Control Room & Live Room for tracking. The studio set up is equipped with a Pro Tools (12) HD System and industry standard reference audio speakers and a second reference screen for ADR and Foley.
FEE
The Course Fee is Rs. 45,000/- plus taxes.
TIMINGS
A total of five classes 3 hours each.
Protools basics
Editing tools, shortcuts
Sampling
Synthesis
Foley recording techniques
Dialogue recording techniques
Mixing and Mastering the assignment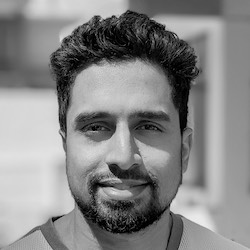 Gautham Pattani
DANTE CERTIFIED TRAINER & STUDIO ENGINEER