COURSE DETAILS
ELIGIBILITY
Anyone who is keen on learning and refining their DAW skills for mixing with Pro Tools.
PROGRAM
This 5 day crash course will take you through the essentials of Pro Tools based in the box mixing. The course is designed to make your mixing workflow on Pro tools more efficient and professional. In this course you will learn to mix smart through effective mixing techniques taking full advantage of Pro Tools' inherent workflow.
EQUIPMENT
A state of the art studio with a sound proofed & acoustically treated Control Room & Live Room.  The studio set up is equipped with a Pro Tools HD System  and industry standard reference audio speakers.
FEE
The Course Fee is Rs. 45,000/- plus taxes.
TIMINGS
In this 5 day program classes will be held for 3 hrs a day.
Session - 1 : Let's fix it in the MIX
Conceptualizing the mix and making a plan
Adjusting volume and pan to balance the mix
Knowing when to process: mix problems vs. mix solutions: Importance of getting your sound right.
Session - 2 : Jump start to mixing
Mixing "in the box" and analog mixing
Setting up the studio: monitors, acoustics
Organizing the session: tidying up the session, labeling tracks and clips, adding memory locations.
Optimizing your session for mixing
Pro tools: Preferences and Settings
Session - 3 : Pro Tools MIXER Anatomy
Inputs
Outputs
Inserts
Sends and Returns
The Pro Tools Mix Window
Configuring the Mix Window
Understanding mixer signal flow
Using inserts and plug-ins
Working with plug-in settings
Using sends and creating effects returns
Submixing with aux tracks
Using groups while mixing
Session - 4 : Equalization
Understanding the mechanics of sound
Learning the basics of EQ: frequency-specific level control
Exploring EQ strategies in mixing: correcting vs. creating
A working example: kick drum and bass
A working example: filtering loops
Exploring mixing tips and tricks: EQ
Session - 5 : Gain-based Processing
Understanding dynamics and dynamic range
Working with dynamics processors
Using the AVID and third-party plugins
Using gates and expanders
Using de-essers to eliminate sibilance
Mixing tips and tricks: dynamics
Parallel or upward compression
Session - 6 : Time-based Processing
Time-based effects to add depth and width
Exploring and using Revibe II
Using third-party plugins
Mixing with reverb and delays
Working with the AIR Creative Collection
Building distortion and saturation using CRANE SONG
Session - 7 : Pro Tools Automation
Basic Automation
Recording Automation (Write Mode)
Playing Back Automation (Read Mode)
Turning Automation Off
Viewing and Editing Breakpoint Automation
Understanding automation
Recording real-time automation moves
Viewing and editing automation
Using clip gain
Automating plug-ins
Exploring automation strategies for mixing
Session - 8 : Delivering the MIX
Understanding the characteristics of a great mix
Crafting your mix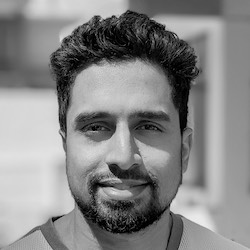 Gautham Pattani
DANTE CERTIFIED TRAINER & STUDIO ENGINEER