COURSE DETAILS
ELIGIBILITY
This program is open to persons interested in producing their own music.
PROGRAM
Our curriculum guides you through the creative journey of discovering your own sound and developing it into a unique body of work. You will learn valuable techniques as you compose a portfolio of original tracks. We begin with the basics of production and studio etiquette and immediately follow it up with DAWs (Ableton & Protools). We then delve into the depths of MIDI sequencing & editing. While learning to use it, you will acquire production skills that can be applied to a wide variety of applications from songwriting, to studio production, to laptop DJ'ing. You will learn to compile Ableton sets from audio and MIDI clips, loops, or samples. Our final module on Music & Audio production for advertising & media and an overview of the entertainment business will qualify you as a producer ready to take on the world.
EQUIPMENT
The facility brags of a state of the art studio with a soundproofed & acoustically treated control room & living room. The studio is equipped with the latest Pro Tools HD system, API Preamps, Tube preamps, Inward connections, Ableton Live, Push 2, Kontrol S49, Adam S3A reference audio speakers, and an AVID control surface.
FEE
The Course Fee is Rs. 5,00,000/- plus taxes.
TIMINGS
Classes will be held on 4 days of the week for 3 hrs a day. Day 5 is dedicated to clearing doubts.
Module 1 - Introduction to sound
Basics of sound & structure of sound
Frequency response, Sound level & related
Perception of sound and psychoacoustics
dB & its relationship
The human ear & safety
Introduction to acoustics
Learning to design and read technical riders
Types of industrial cables & connectors
Cable gauge and current carrying capacity
Introduction to equalization
Module 2 - Electronics
Introduction to basic electronics
Introduction to resistors, capacitors & inductors
Theory of AC & DC current
Electricity generation-transmission and distribution. Electrical safety measures.
Theory & application of  electromagnetism, Electromagnetic induction
Understanding transformers, Motors and their application
Fundamentals of transistors, vacuum tubes, solid-state devices, Integrated circuits
Project work
Ear training part 1
Module 3 - Amplification & Speaker
Transducers – types, working principles, connections & acoustical filters
Pre Amps – types of preamps, impedance & phantom power
Power Amps – class of power amps, power matching, impedance
Direct Injection (DI)
Crossover filters – In-depth analysis of crossover filters
Design and working principles of electro-acoustic devices
In-depth analysis & configuration of  bi-amp & active systems
Ear training part 2
Module 4 - Analog Mixers & Outboard Processing
Signal flow , i/o of audio consoles and different components used
Patching & types of patch bays.
Analog Consoles : hands on training.
Understanding how compressors & gates work , gain based and time based.
Hands on: Setting up audio signal chain for P.A and electrical power considerations
Ear training part 3
Module 5 - Pro Tools Basics
Recording and sound reproduction
Understanding the Nyquist theory, sample rate, Bit depth, AD/DA conversion
Digital audio – clock, Anti-aliasing filters, quantization, dither, buffer size, Midi
Digital recording technology
Introduction to Pro Tools
Module 6 - Electronic Music Production I
An overview of music theory – scales, relative notes, and chord families
History of music and introduction to genres
Introduction to composition
Module 7 - Electronic Music Production II
Advanced Ableton Concepts
MIDI sequencing
Working with sampling and audio clips
Working with VST's – Instruments
Creating music for film, sound design and dubbing
Location sound recording techniques and workflow – Producer POV
Producing ads and handling client briefs
Producing and managing artists
Module 8 - Audio Post Production Workflow
Audio Logo creation
Signal Processing
Working with other DAWs – Pro Tools and Reaper
Advanced mixing techniques – Producer POV
Mastering techniques, compression & limiting – Producer POV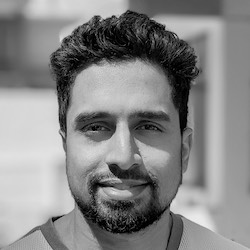 Gautham Pattani
DANTE CERTIFIED TRAINER & STUDIO ENGINEER