"You don't get paid very well in this industry. You've got to lift and move s*** all day. And sometimes all night. It's tough, back-breaking work, and there's no glamour in it".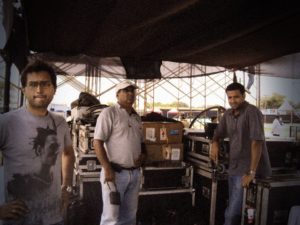 Not the words you want to hear during a job interview. And definitely not from the interviewer. But rather than run back to the Civil Engineering degree life, of 20 kilo books and all-nighters spent trying to ace the morrow's paper, Niranjan chose the job at Reynolds Sound & Light. A job that brought many hours of rigging speaker boxes and managing some expensive (and heavy) sound equipment. But also one that helped Niranjan decide what he wanted to do for the rest of his life – a luxury at 21, this writer can tell you.
He may have started with some heavy-lifting, but the job at Reynolds quickly gave him an opportunity to work with Live Sound. At Live Concerts. Between 2001 and 2003, some of the music he helped deliver to an audience baying for international spec concerts came from Bryan Adams,Mark Knopfler, and even the Vivant of Verve, Enrique Iglesias. Wayne Krantz, Anthony Jackson, Deep Purple,Black Eyed Peas, Sepultura, The Scorpions, GNR, Metallica, Ian Anderson, Iron Maiden, the list of bands and musicians he's worked with are endless. And this experience gave him the belief to start on his own, as a Live Sound Engineer.
Onward and Upward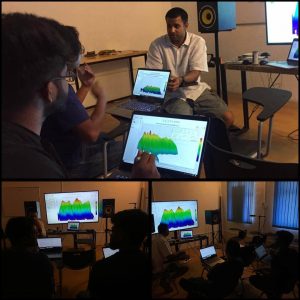 Niranjan @ Audio Academy
2012 was pretty big for Niranjan. Audio Academy – today, probably Asia's best school for Live Sound, studio, and production – welcomed its first batch of students. Co-founded with Vauhini Venugopal, Audio Academy is about as state-of-the-art as Audio Engineering schools get, with its Avid certifications, and cutting-edge equipment like the S6-L to get your hands dirty with. The school also houses a recording studio which "..is constructed keeping musicians in mind…and is a great experience." (Swarathma's Jishnu Dasgupta). 
The current crop who want to make it big in Audio have it easy. When Niranjan wanted to learn more, he was forced to assume the role of teacher, student, and examiner. The LASSET & SSAM courses he attended in 2005 did give him an edge, but he needed to couple this with an innate need to tinker about and to hone his skills. Take, for example, the numerous speakers he time aligned to learn. Or even the endless hours he spent working with professionals to get better at his craft. And the big one – building a full-fledged studio to amp up his recording skills.
The studio that made Audio Academy
Today, the recording studio, with its top-of-the-line equipment, is the spiritual centre of Audio Academy. It has its roots in the home studio, which hosted Bangalore's pride, like Thermal And A Quarter, Swarathma, and Galeej Gurus. And much like how Niranjan learned the ropes in his home studio, so do the students at Audio Academy in this current avatar. The patrons of the home studio still swear by Niranjan. TAAQ's Bruce Lee Mani enjoys recording with Niranjan because "..he (Niranjan) will show up, do a fabulous job, and leave.". Any musician knows that its not just the equipment that maketh a great recording venue. From Grammy Award winning Monica Heldall, to Ambi Subramaniam. From Clinton Serejo with Swarathma to Parvaaz. They've recorded here and loved it.
Travelling Experience
Niranjan Shivaram, Sound Engineer, bloomed in the late 2000's. He was asked by Swarathma to accompany them to on a whistle-stop tour of Australasia, and he also mixed for some of the music industry's who's-who here in India. 
Niranjan Shivaram, Entreprenuer, came after years of all kinds of back-breaking work, at all times of the day and night. He has trained professionals in in Dubai and Sri Lanka as an AVID-certified instructor. But it takes more than technical prowess and weathered hands to become a successful business owner. Audio Academy started in 2012, and all of a sudden, Niranjan was not just an instructor, but also at least partly responsible for defining the culture of the place. So he did just that – bringing in a sense of professionalism, accountability, and mentoring not seen before in this industry. Ever the technocrat, he also automated processes to help run a tight ship.
As the Audio Academy story writes itself, it's important to remember where it started. Some people keep staring at lemons. Others make some lemon juice and get to work. For Niranjan, the lemons were the 20-odd kilos of text books from his Civil Engineering course. Drop in to Audio Academy to sip some of the juice.