Rushikesh Nene, an electrical engineer who has just finished his training in music production at Audio Academy built his own synthesizer. For those who love the idea of hacking together their own instruments, read on to see how he did it and maybe you can get some of that maker glory too.I really enjoy building things with my hands. Since I have a background in electrical engineering, and am a sound engineer now, I felt that building a synthesizer would a great mix of the things I really enjoy. The entire process turned out to be fun and incredibly interesting.I began by deepening my understanding of what synthesizers were all about— I read everything that I could lay my hands on to learn everything there was to know about them. I then began reading up on people who had already built their own synthesizers and researched every possible aspect of the process. After that, I got together the schematics and designs and then it was time to get down to the real work.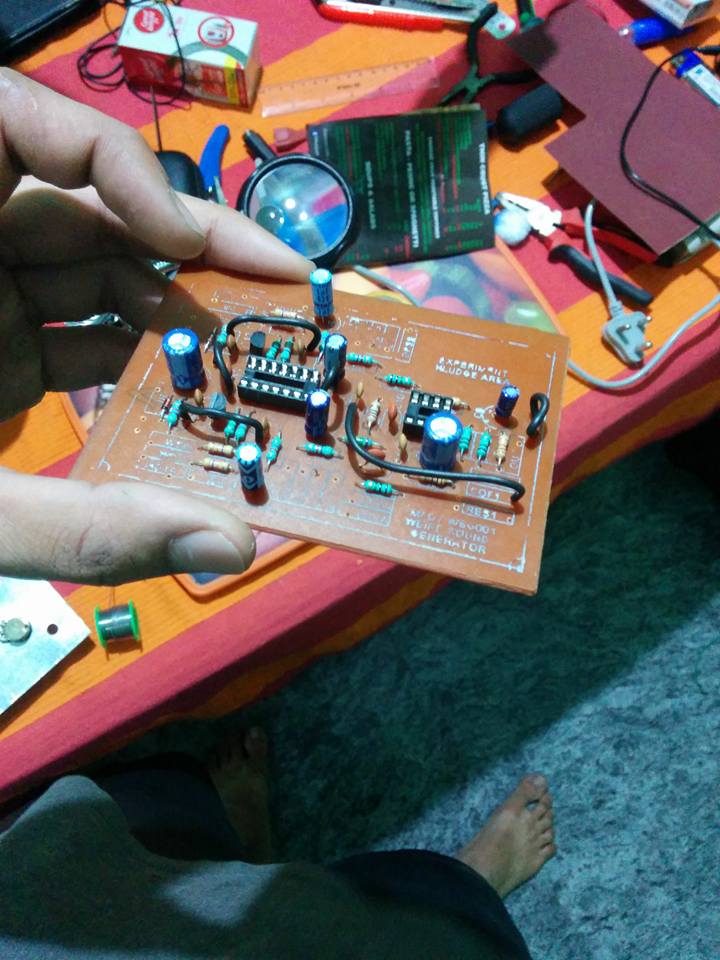 I spent a lot of time on SP Road in Bangalore, hunting down components and buying everything from aluminium to copper bolts. Everything that I did was done by hand. It was a huge learning process because I was constantly making mistakes. I eventually got it right on my fourth try and by the time it was ready, it had been a month. The one that I built is a basic sound generator with three oscillators. One acts as LFO and there is another one for extra modulation. Powered by a 9V battery, the synthesizer has got two voices, each with three oscillators and a filter section at the end. Though I cannot play it as a musical instrument, I can generate interesting tones and sounds using it.For those who are also interested in building their own synthesizer, I have some advice based on my own experience. Always invest in good quality components even if they cost a little extra and ensure that you plan all the steps in advance. Get the right tools for the job and also understand the schematics very thoroughly before proceeding to build it. Looking back, it taught me so much and if I had to do it all over again now, I would only take a day to build it!
Though, I haven't been able to use it yet in a musical context, I am experimenting with sounds right now. I am also working on another model which I am looking forward to using.
Other DIY Projects @ Audio Academy: https://audioacademy.in/diy-making-homemade-headphone-amplifier/