An engineer, mentor, musician, artist and an alchemist— a music producer is constantly morphing into different roles based on the type of music producer he is and the artist he is collaborating with. Music producers are responsible for some of the most popular music on the planet and yet most of them remain unknown to the roaring fans of the music that they helped create.
The stereotypical image of a music producer is one hunched over his mixing desk and worrying about drum sounds, compression settings and the like. However, a music producer is much more than that! He can completely transform an artist's music by his vision, sound and plays a crucial role in assisting and even provoking artists in their musical direction. No matter what type of producer he is, ultimately he needs to have an understanding of musicality. And it's these kind of producers that are most sought after.
The Ghost: What does Taylor Swift's We Are Never Ever Getting Back Together" (2012), "Shake It Off" Katy Perry's "I Kissed a Girl" and Jon Bon Jovi's "It's My Life" have in common? Swedish singer, songwriter and music producer, Max Martin produced all of them! 54 of his songs have reached the top ten charts (Madonna has had 38 and Elvis 36 in case you were wondering) and yet he remains a complete unknown. Besides producing music, he has also co-written most of music's biggest hits. However, his trademark is his elusiveness— he never gives interviews and only focuses on work.
The Mentor: When singer-songwriter was struggling with her third album after the success of 21, she had Rick Rubin, the legendary music producer and co-founder of Def Jam records listen to her early attempts. It was his directive to go back to the drawing board that led Adele to the immense success of 25. With a legendary ability to get people to do their best work, Rick Rubin is the master mentor. His numerous platinum-selling and award winning albums include Slayer's Reign in Blood, hip-hop albums by the Beastie Boys, and LL Cool J. Knowing the pulse of numerous genres of music, he crafted the blockbuster comeback albums by Johnny Cash, Black Sabbath and the Dixie Chicks.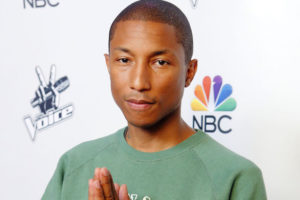 The Artist: Some music producers are artists themselves. Think Dr Dre, Pharrell Williams and Prince. Did you know that Britney's hit 'I'm A Slave 4 U' was written and produced by Pharrell Williams and Chad Hugo? Some producers contribute as musicians to the albums that they produce. Trevor Horn is well known for being an impressive engineer but also playing a host of instruments on the Frankie Goes To Hollywood's Welcome To The Pleasuredome album.
No article about music producers is complete without mentioning the legendary George Martin, the 'fifth Beatle' who recently passed away. Paul McCartney called him a 'second father' and John Lennon credits him with making The Beatles what they were in the studio and teaching them a language to talk to other musicians. Besides playing piano for some of The Beatles' songs, he experimented with orchestration and produced complex, layered pieces of music pieces with just a four-track recorder. He experimented with brilliant arrangements, the latest engineering techniques and sound effects, displaying a type of versatility, mastery and innovativeness that is rare.
A music producer is a project manager of sorts with a sense of the big picture and the direction that the song or album is going to take. As we see, with the greatest producers, the job becomes so much more than that!