Meyer Sound's Bluehorn System has been touted as a technological breakthrough that is the product of over six years of intensive research. It has very quickly won the appreciation of well-known film composers and music professionals and is seen as being a game changer in the field.According to Meyer Sound, the Bluehorn System speakers were specifically designed for high-resolution monitoring applications for music recording, cinema post-production, music mastering, high-end home theater or other applications such as these that require the highest accuracy in sound reproduction. The complete Bluehorn Systems are available in either stereo or LCR monitoring configurations, with each channel comprising a two-way mid-high loudspeaker, a separate low frequency element, and dedicated digital processor.
Groundbreaking Features
The Bluehorn System is groundbreaking because this is the first time that large-format loudspeakers have achieved flat amplitude and phase response from 25 Hz to 20 kHz. Furthermore, the dedicated processor is a unique feature that sits in front of both the mid-high loudspeaker and the companion low-frequency cabinet. The system-specific, dsp-based, correction algorithms hosted by the processor were developed by meticulously analyzing all physical and electrical non-linearity throughout the entire system, from 25 Hz to 20 kHz, in order to bring acoustic output — at any level — into absolute phase and frequency alignment with the input signal. The result is absolutely transparent aural neutrality. This phase-coherent response could previously only be achieved by open-air electrostatic headphones with their extremely low mass diaphragms. While externally, Bluehorn shares the same cabinet footprint, driver dimensions and waveguide configuration as Meyer Sound's Acheron Designer loudspeaker, on the inside, it utilizes an upgraded HF driver and new amplifiers with ultra-low noise and distortion.
Rave Reviews from Music Professionals
Noted film composer John Powell was one of the first people to use the Bluehorn System. His impressive film credits which span over 60 films includes animated family classics from Chicken Run to Happy Feet, Rio and How to Train Your Dragon (and their sequels) plus all the Jason Bourne films. Having installed an LCR Bluehorn System in his private recording and mixing facility in California, Powell speaks about his experience using them to mix music for Jason Bourne, the latest film in the Bourne series. Powell noted that the Bluehorn System gave him an extra level of clarity that made it easier for him to analyze his mix. Calling them a great system to monitor the mixes, he said that they work extremely well to not just find out what is right with the music but also what is wrong. The Bluehorn System according to Powell are perfect for people composing music for film because besides giving the type of projection that is desirable at the dub stage, it also has an extra layer of audiophile quality. The system allows composers hear deeper into the music and resolve problems right away, knowing that even the dub stage might not offer that level of accuracy.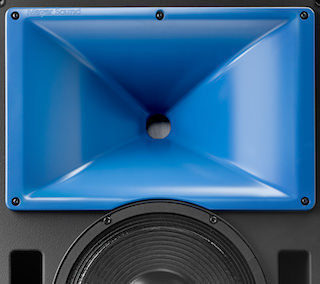 With its unflinching levels of accuracy when revealing the input signal, giving sound professionals just the sound that they recorded, exactly as they recorded it, the Bluehorn System has served to uplevel the game when it comes to mixing, recording and mastering and is here to stay.